Age and Sex
Regardless of their actual birth date, all race horses turn 1-year old on January 1 of the year following their birth.  Prior to that they are referred to as a Foal, or a Weanling (a horse that has been weaned from its mother).  The horse's mother is called a Dam, and their father is a Sire.
After they turn 1-year old, they are referred to as a Yearling for the next year.  Then they become a 2-year old (aka Juveniles), a 3-year old, etc.  on each subsequent January 1.
There are additional names added to a race horse based on Age and Sex.  Female horses less than 5 years old are called "Fillies."  Females 5 years and older are called "Mares."  Male horses less than 5 years old are called "Colts."  Males five and older are simply referred to as a "Horse."
Two exceptions to the male names occur.  The first is when a horse has been castrated.  Regardless of their age, they are then referred to as a "Gelding."  The other exception is a male with an undescended testicle, who is referred to as a "Ridgling."  Let's return to Age specific matters.

We'll start by looking at how Age related information is presented in the Daily Racing Form. First, we'll return to a race discussed in a previous post, the 9th race at Saratoga on July 20, 2012. Below are the Race Conditions printed at the top of the race, along with a portion of the PPs for the first horse: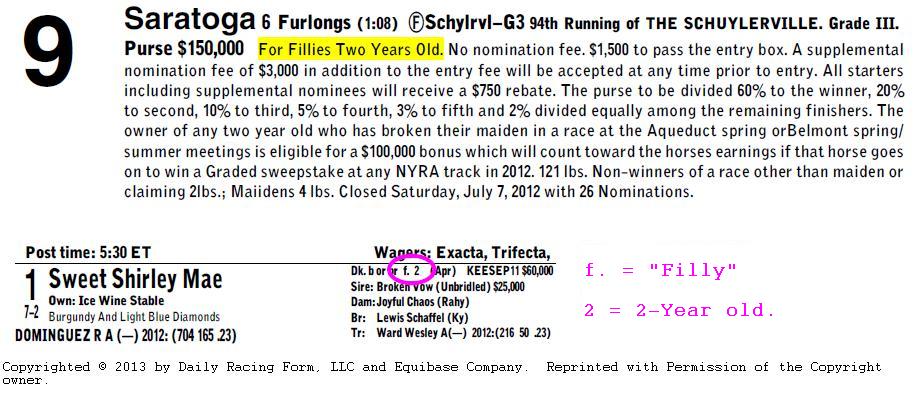 If you wish to see a larger (clearer) image, just click anywhere on the image. I've highlighted the specific requirements at the top of the Race Conditions. This race is restricted to horses that are exactly 2-years old, and for Fillies only (no Colts). Horse #1 (Sweet Shirley Mae) is shown above, and I've circled the location where the DRF identifies the Sex and Age of a horse. This information is consistently presented in this location in all of the PPs.
Now let's look at the 2nd race on the same day at Saratoga. In this case I've included a portion of the PPs for two of the horses in the race: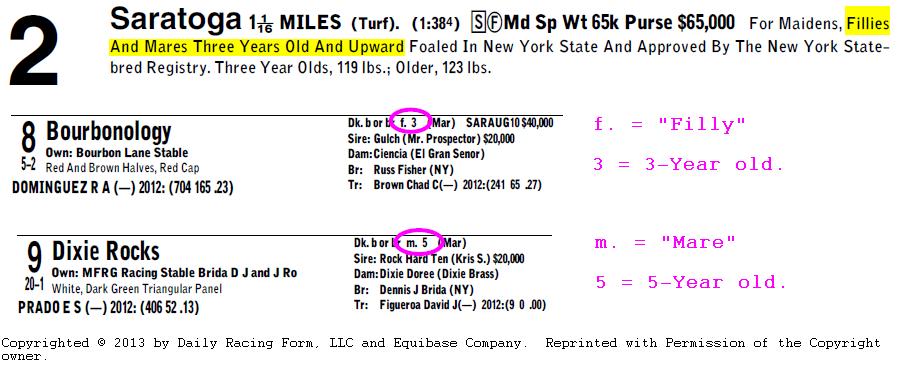 Again, for a clearer image, click anywhere on the image. Again I've highlighted the Age requirements in the race conditions. This race is restricted to horses that are 3-years or older. Like the prior race it is also restricted to only Females (Fillies and Mares).  Below the race conditions, you will find that Bourbonology is a 3-year old Filly and Dixie Rocks is a 5-year old mare.
The "f." and "m." designations are the only two that exist for female horses.  However the males can have "c." for Colt, "h." for Horse, "g." for Gelding, or "r." for Ridgling.
By now, you might have some questions about race restrictions when it comes to Age and Sex of the horses entered.  Let's establish a list of Universal Truths in North American racing that might answer some of them.

2-Year olds never race against older horses.  This is true for all class of races, whether Maiden, Claiming, Allowance, or Stakes.
Males are never allowed to enter races restricted to Females (Fillies and Mares) only.
Races are never restricted to males only, meaning that Females can enter any race, as long as they meet the age requirements.
In the body of a Race's Conditions, the absence of any mention to Fillies and/or Mares means that the race is open to both males and females.
Similar to 2-Year old restrictions, many races are limited to 3-Year olds only, especially in the first half of the racing season.
An old trick question in horse racing is, "How many 4-Year olds have ever won the Kentucky Derby?" Of course the answer is ZERO, because the Kentucky Derby is limited to 3-Year olds only. This is true for the other two (The Preakness and Belmont Stakes) Triple Crown races as well. This 3-Year old restriction holds true for many Major Stakes races until late summer, with the Travers Stakes at Saratoga being one of the last major stakes races for 3-year only horses.
Races in the last third of the racing season often match 3-year olds against older horses in Stakes races. In fact, in the Breeders Cup (which is held in late October or early November), there are no races that are restricted to 3-Year only horses. All races are either for only 2-Year olds or for 3-Years old and up.  The presumption is that 3-Year olds have matured enough at this point of the season that they can be competitive with older horses.
With that said, in non-Stakes races, 3-Year olds frequently compete against older horses much earlier in the season.
There are countless opinions and angles on when it's best to wager on younger horses vs. older, and the other way around.  In a future post we'll get into that, and provide more details about Age information in the running lines of PPs for races that have already been run.
---
To learn more about Age and specifically how Age information is presented in a horse's past performances, click here to view an article "More on Age."
---