An Educated Fan Is A Dedicated Fan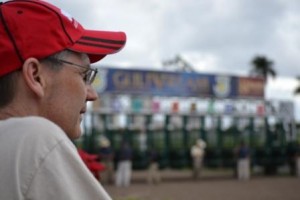 I started this website as a challenge to myself, to give something back to a sport that I have loved for my entire adult life. And, to satisfy an internal drive I have to teach people about a sport that I feel is often misunderstood.
As I look into the future of 2015, the future of The Sport of Kings is very much in doubt. For those of you who only know Saratoga, Keeneland, or Del Mar … you might not fully realize that fact . But, every serious study within the equine industry shows steady decline in attendance, handle, and fans. As a whole, the racing industry in North America is struggling.
Why? That is a complex question, and I don't proclaim to have all of the answers. But, as a fan of more than 35 years, I feel compelled to do my part to figure it out. And, if possible, help to remedy the situation.
In a study reported by Jockey Club a couple of years ago, I found the following line of Yes/No questioning to consumers very revealing. These questions pertained to consumer attitudes about Thoroughbred Horse Racing vs. other major sports.
How easy is it to understand how the sport works?
Other Sports – 76%

Horse Racing – 28%
Are there many ways to learn about the sport?
Other Sports – 80%

Horse Racing – 22%
Is there easy access to the information you need to follow the sport?
Other Sports – 71%

Horse Racing – 2%
If you summarize this information, relative to other sports, Horse Racing is …
More difficult to understand than other sports.
Has less ways for fans to learn about it.
And it's nearly impossible for a fan to find the information required to follow it.
So, what can one person do? Well, in starting this website, I'm trying to show that he/she can do a lot. My focus for the first 100 Blog articles was very much on education. And, while I will continue with that focus in the future, I plan to expand on my other offerings with more stories, travels, and meetings with interesting people involved in horse racing on a daily basis. Why?
I believe that education should be more than just the glossary of terms in a racing program or an odds chart with payoff amounts.  Education should help fans to understand "why" trainers, jockeys, and horses do what they do.  Education should explain the opportunities and adventures that become available to a fan after it all starts to make sense.  Education should transport fans to majestic places and reveal the sights, sounds, and emotions that await them.
I'm constantly bewildered at how little investment is made by major racetracks to educate potential new fans.  Well, if they think education is expensive, how much is ignorance costing them?
Other sports understand the importance of fan education.  That is why they invest so much money in pregame and post-game shows where experts discuss game strategy, players and coaches are interviewed, and video replays are marked up to help fans understand what took place on the field.  How effective has this strategy been? Do a random sampling of your co-workers and family members and ask how many of them are involved in player fantasy leagues, weekly football pools, poker tournaments, etc.  Then ask how many of them were doing the same thing ten or twenty years ago.
A quick anecdote here … for many years when I was an avid NFL fan, I had to BEG my sister-in-law to put the Thanksgiving Day NFL games on the television.  Here's what I got for my plea: a 13-inch TV in the kitchen with the sound muted!  Today, the games are played on her big screen television in the living room, with full surround sound.  And this past Thanksgiving, I heard her and another sister-in-law comparing notes about their various fantasy football leagues, survivor contests, and weekly pools.  I asked them if the weekly pools were picking winners "straight up" or using the pointspread.  They replied in unison, "the pointspread of course!"  Of course … thinking to myself that ten years ago neither of them even knew what a pointspread was.
The Bottom Line: An Educated Fan is a Dedicated Fan.
---