A Christmas Wish List For The TimeformUS Elves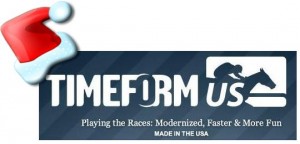 Back in August we introduced readers to TimeformUS with the article, "There's A New Racing Form In Town."  Since that time we followed up with articles explaining their Trainer Ratings, Speed Figures, and Perspective Comments.
Over the course of the past few months we have been using TimeformUS on a regular basis, enough so that we now feel compelled to submit our Christmas Wish List to TimeformUS.  However, unlike other requests this time of year, we're not looking for our wishes to be fulfilled by December 25.  If your little programming elves can see their way to making these enhancements during the coming year, we'd be very happy little horseplayers.
Label Starting Gate Locations
A topic discussed in several articles on this website is the uniqueness of racetracks in North America.  Racing ovals range in circumference from 1 mile (8 furlongs) to 11/2 miles (12 furlongs).  Their stretch runs are as short as 900 feet and as long as 1,400 feet.  And these stretch run variations exist even when the oval sizes are identical.  For example, both Del Mar and Fairgrounds are 1-mile ovals.  Yet the stretch at Del Mar is 919 feet and Fairgrounds is 1,346 feet.  Click here to read an article explaining these many variations.
All of these many variations makes it difficult, even for experienced handicappers, to remember the location of the starting gate at the many racetracks, for the many distances races are run.  Why is this important?
Is the starting gate located near a turn?
What post positions are good or bad for that particular starting gate location?
Does the distance translate to a 1-Turn or 2-Turn race?
All of these are questions are important to a handicapper.  And you (TimeformUS) could help us quickly identify this by labeling the track diagram in your past performances with the location of the starting gate.  Below are a couple excerpts of PPs with the addition of a "G" labeling where the starting gate was located for each race.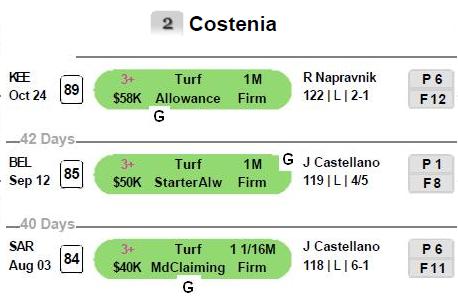 In this example, the last two races for Costenia were both contested at 1-mile on the turf.  The starting gate location at Keeneland for the October 24 race shows this to be a 2-turn affair, while the 1-mile race at Belmont started out of a chute at the top corner of the turf course, making it essentially a 1-turn race.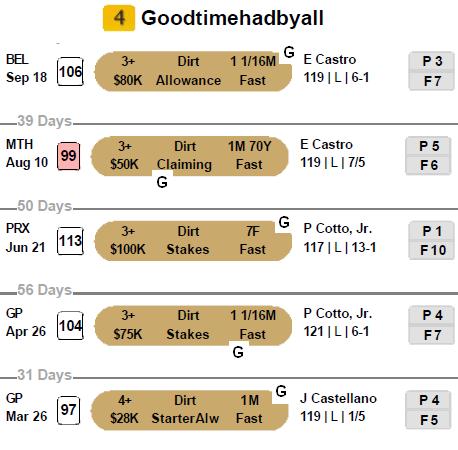 The example of Goodtimehadbyall is super, because it shows the many different starting gate locations for races run between 7-furlongs and 81/2 furlongs at four different tracks.  Contrast the 11/16 race at Belmont on Sept. 18 with the 11/16 race at Gulfstream Park on April 26.  The distance is the same, but the difference is a 1-turn race and a long run down the backstretch at Belmont vs. a 2-turn race and hitting the first turn almost immediately after the start at Gulfstream Park.  Post position scenarios are entirely different for these two races.  For example, inside speed would be a big advantage for horses in the Gulfstream Park races at this distance.
---
Include Next Race Speed Figures For Top Three Finishers
A nice feature provided by TFUS is the ability to click on the top three finishers from a prior race and pull up the race chart in a separate browser tab.  Within the chart view you can click on each horse and see their Speed Figure for their next race, or the race that immediately followed the one in the race chart.  This information is very useful to a handicapper, as it provides some insight into the level of the competition a horse faced in a prior race.
Our suggestion is to include the "Next Race Speed Figure" for the top three finishers of each race in the past performances, thereby saving us the step of pulling up the race chart.  We can always pull up the chart if we want more detail, but this would give 'cappers a tremendous head start in evaluating the talent in prior races.  Below is an example:

To the right of each horse you see a figure in brackets.  So, Transparent and Cease both ran a '99' speed figure in their next race following the Sep. 18 race.  You will notice we kept with the TFUS standard of using color to indicate the surface.  If the next race had been on grass, the figure would have appeared as [99].
This type of information is especially useful for young horses that progress rapidly.  Seeing a horse exit a race where the top three finishers all moved forward in their "next race" figures offers a hint that other horses exiting the same race might do the same.
---
Option To View Furlongs Instead of Mile Fractions
The last item on our wish list is for those of us who think in terms of furlongs rather than mile fractions.  Instead of thinking of a race as 11/8 miles, we think 9 furlongs. Why do some handicappers do this?
It helps to identify the progression of distance changes for a young horse.
It makes cutbacks in distance obvious.
It eliminates the need to make mental calculations translating fractions to furlongs.
In general, viewing distances in furlongs is more efficient and cuts out the mental calculations.  For example, quick … how much is the difference between a 11/16 and 13/8 distance race?
The answer: 21/2 furlongs.
Would it have been easier if I had said, how much is the difference between an 8.5 furlong race and an 11 furlong race? You get the point.
Below are the PPs for the Breeders' Cup Juvenile winner, Texas Red.  The left side shows how TFUS shows the distance currently.  The right side shows how it might appear when converted to furlongs.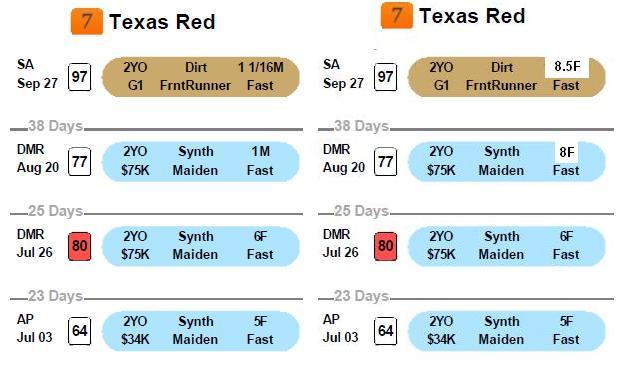 In this way you can easily see the progression of distances (5, 6, 8, 8.5) for this 2-year old horse.  Will 9 and 10 furlongs be upcoming for this horse next year?  The owners are surely hoping for that progression, with 10 furlongs (11/4 miles) being the distance of the Kentucky Derby.
Realizing that some people might prefer to see distances in the traditional mile fractions, we thought this feature might be provided as an option on the "Preferences."
---
Well, there's our Christmas Wish List.  Readers, please add comments to this article if you like the suggestions.  And I'll make sure that our list gets to Santa Timeform.
---