Breeders' Cup 2014 – TimeformUS Comments Provide An Edge

In a prior article we introduced TimeformUS and a list of our favorite features. Click here to read that article.
Included in our list of favorite features was "expanded trip notes."  In addition to these, TimeformUS offers additional "Perspective Comments" that  are available for the majority of races that were run in Europe.  These comments are extensive and quite often provide more than just trip related information.  For example, sometimes there are comments that reflect the quality of the competition in the race and/or prior races.  At other times, there are comments about where the horse is headed next, whether or not the horse is suited to try different distances, go up in class, etc.  With the influx of European horses for the Breeders' Cup, this type of information can provide the horseplayer with an edge over players who do not have access to these comments.
With the permission of TimeformUS, we're going to spotlight a few of the European horses running in the Breeders' Cup and provide some examples of the perspective comments that are available.
Osaila (Juvenile Turf)
Below are the Past Performances (PPs) as they appear in TimeformUS for Osaila. They are probably too small to read well, but we're showing them just so you get the idea.  To the far right are the typical trip comments, offered in one form or another by all racing programs.  However, in the middle, where you would normally see running lines, are the perspective comments.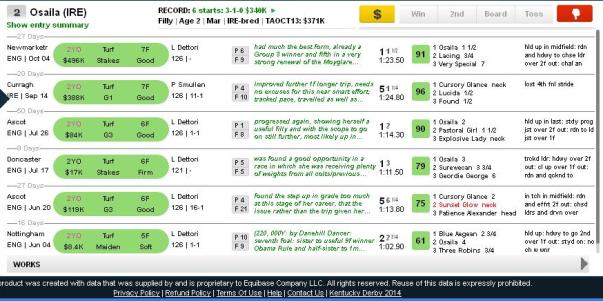 If you click on the perspective comment from this screen,  you will see an expanded box with the complete perspective comments shown.  Below are the full perspective comments from Osaila's last race on October 4th at Newmarket.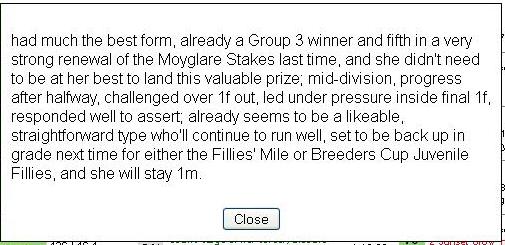 You can see these comments are quite detailed.  They point out that she "had much the best form" and "didn't need to be at her best to land this valuable prize," which suggests she was a clear winner.  Then it refers to her last race, The Moyglare Stakes, and suggests that it was a solid field she faced that day.  Her PPs show she only lost by 11/4 lengths, so she did well against that tough field.  At the end, they suggest where she might be headed next and predict that extending to 1-mile is not an issue, "she will stay 1m."  This is important, because until now Osaila has raced no further than 7-furlongs.  The sum total of these comments are quite useful, and that's just her last race.  Similar comments are available for all six races she has had in Ireland and England.
---
Qualify (Juvenile Turf)
In the same race as Osaila is another filly from Europe named Qualify.   She won her last race in Ireland on September 28, and below are the perspective comments from that race.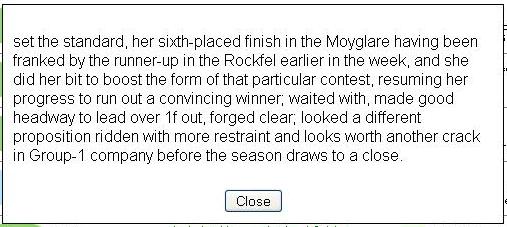 As it turns out, she also ran in the Moyglare Stakes, and the class is being emphasized again by what obviously must have been a good effort from the 2nd place horse in that race, "having been franked up by the runner-up in the Rockfel earlier in the week." Another interesting comment in this perspective is "looked a different proposition ridden with more restraint."  A review of her trip comments shows that up until her last race, she had always been on or near the lead in her prior races.  But in this race she "waited with, made good headway to lead over 1f out."  This suggests she settled much better in her last race and it paid dividends in the end.  All good signs looking toward the future.
---
Dank (Filly & Mare Turf)
Since winning the Breeders' Cup last year, Dank has had only two races, finishing 3rd and 5th.  Below is the perspective comment from her 3rd place finish on March 29 in Dubai.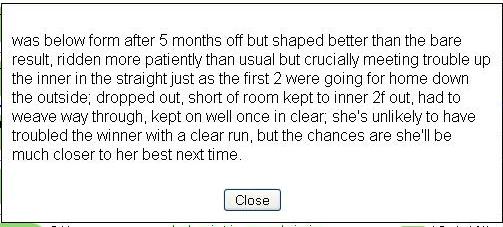 The comments suggest her effort was not bad, "shaped better than the bare result" and that she encountered some traffic problems, "had to weave way through."  And they conclude with an optimistic viewpoint of "chances are she'll be much closer to her best next time."  Her next time came on June 18 at Royal Ascot in England.  She finished 5th, beaten by 10 lengths.  The perspective comments from that race appear below.
These comments reveal a somewhat dismal effort, "was below form" and "didn't have any obvious excuse, just not on her game."  After that, the author still tries to be optimistic, suggesting it won't be long before "she's back on track."  Considering that she hasn't raced since June, it's fair to say there still might be lingering issues with her.  With her being the 5-2 morning line favorite this year, these two perspective comments should give backers some pause.
---
Chicquita (Turf)
The last perspective comment we will review is about a 4-year old filly, Chicquita, entered in the Breeders' Cup Turf, contested at 11/2 miles.  A review of her PPs shows a win and 3rd at this distance, as well as two good efforts at 11/4 mile.  Below is the perspective comment from her last race.

Despite finishing a solid 3rd in this Grade-1 race in England, there are some troubling comments to digest.  Including:
Is a tricky customer.
Threw the race away.
Hung badly left (as she has previously).
These comments suggest a horse with some behavior issues.  A look back at the perspective comments from prior races shows things like "flashed tail," "not straightforward," and "typically carrying her head high."  With that said, there are also comments like the one above "the most talented filly in the race" and "clearly the best horse, but forced to survive a stewards' enquiry."  All of this seems to support the comment made above that Chicquita just might be a "tricky customer."
---
These examples of the detailed perspective comments available in TimeformUS should give you an idea of how useful the information can be to a handicapper, especially in The Breeders' Cup.
Since there are a number of statements in these perspective comments that can be labeled as "opinions," I asked TimeformUS CEO Marc Attenberg to tell me about the author(s) of these comments.  He replied, "It's about twenty analysts in the Timeform headquarters in England."  He also said, "In my opinion, it's arguably the greatest differential TFUS brings to the table."  In a future article we'll try to find out more about this European contingent and the process that goes into authoring these comments.
Click here to go to the TimeformUS website.
---
Additional Breeders' Cup Articles:
We spotlight 4 contenders and explain what caught our attention when watching their video replays.
Navigating the Santa Anita dirt track, starting gate positions, post position advantages and disadvantages.
Navigating the unique challenges of the  Santa Anita turf course.
An interview with Gary Stevens, including some interesting comments about his 2013 Breeders' Cup experience.
---
* * * WE'D LIKE TO HEAR FROM YOU. PLEASE CLICK HERE TO TAKE OUR READER SURVEY. * * *