More on Age
In a prior post we introduced the topic of Age.  In that post we explained how all races are restricted by age.  Some are limited to 2-year olds or 3-year olds only, while others are restricted to a range of ages.  For example, 3-years old and upward, or 4-years old and upward.  We provided an example of how these restrictions are written up in the race conditions at the top of each race, and where the current age of each horse is included in their Past Performances (PPs).
In this post we will be providing examples of how age information is presented in the PPs for races run previously in a horse's career.  And, we'll explain why restrictions are placed on horses by age.
The following PPs are for a 3-year old filly, Joy.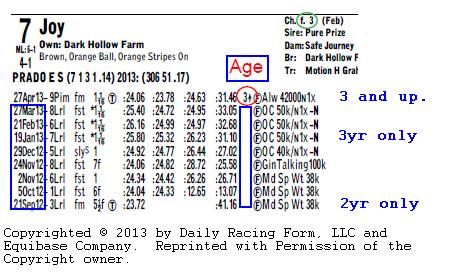 Notice that in the column I labeled "Age" there are no symbols for the first eight races of her career. That's because when a race is restricted to either 2-year old or 3-year old only horses the default is to show nothing.
This can be a little confusing, especially when looking back at prior years.  In this case, Joy's first five races (all in 2012) were for 2-year old horses.  Then, after she turned 3, the races from Jan. 19 to Mar. 27 were for 3-year olds only.
On the last race you see the symbol (3↑) for a race restricted to 3-year olds and up.  For the first time in her career she may have faced horses older than herself.
I say "may" because we don't know for sure by looking at the PPs whether or not there were any older horses actually entered in the race.  The symbol simply indicates the conditions allowed for them to be entered.  To find out whether or not older horses actually ran, you have to look at the Race Result Chart.  Something we'll go over in a future post.
The next example is for a 4-year old filly named Hungry Island.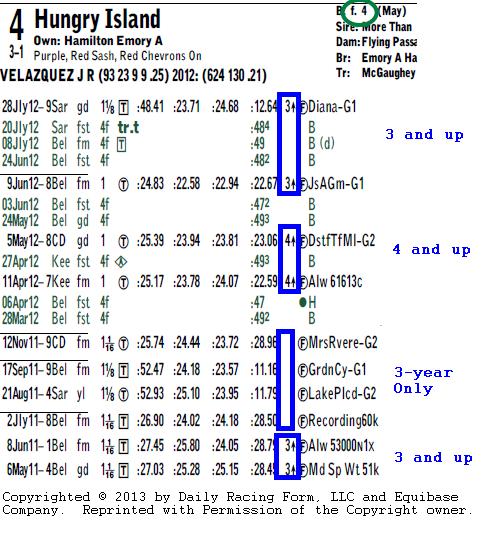 Notice that after her Maiden and Allowance races, she was entered in 3-year only Stakes races.  Following that (on April 11, 2012) she ran in an Allowance race.  While on the surface this might seem like a "drop" in class (Stakes to Allowance), notice that the Age designation (4↑) indicates she was facing older horses now, instead of just 3-year olds.  So, depending on who was entered in that April 11 allowance race, it might have been just as difficult competition as in her prior races.
The Age restrictions for the April 11 race and her next race (May 5) are more to do with the time of year than anything else. During the first half of the year, it is common to restrict races to 4-year old and up.  This keeps the 3-year olds competing against horses of their same age while they continue to mature.  But in the latter part of the year, these races are opened up to 3-year olds.  This separation of 3-year old horses is commonplace for Stakes caliber horses, but is the exception for Maiden and Allowance horses (especially in the latter 2/3 of the racing year).
The justification for allowing older horses to compete against younger horses in Maiden and Allowance races is simple. For an older horse to have remained at this class level, they must be either lacking in talent, maturity, or soundness.  This should balance out any Age advantage for these animals.
One more note on the situation of younger horses running against older horses.  In many of these races, weight concessions are provided to the younger horses, allowing them to carry less weight.  Once again, this is an attempt to balance out the Age factor.
Now that you know the basic information about Age, we will be able to get into Handicapping Strategies in future posts. When to favor older horses against younger horses, and when younger horses might actually have the advantage on their older brethren. Much more to come!
---