Personal Break – May 2015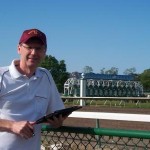 I've been dealing with some health issues over the past few months. During this time period I've tried to keep the website going with at least one article a week. However, present circumstances require that I have some corrective surgery and take the time to recover.  The good news is that my doctors expect a full recovery and a return to "normal" activities … which for me means getting back to the race track!  With that said, I have been told to expect a few weeks of downtime after the surgery, which will take place the first week of May.  During that time period I will not be posting any new articles.
In the meantime I will be publishing an article a few days before the Kentucky Derby that will provide some thoughts about the Triple Crown races and links to past articles that might help in your preparation for these exciting events.
Enjoy the Kentucky Derby, Preakness Stakes, and Belmont Stakes!
Neal J. Benoit
P.S. My sincere thanks for all of the kind words and best wishes in the comments section … very much appreciated.