Get A Leg Up↑ – Keeneland, Elkhorn Stakes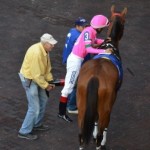 UPDATE: Post-Race Recap Added.
The 9th race at Keeneland on Saturday is the Grade 2 Dixiana Elkhorn Stakes, a turf marathon for horses 4 years and older. This edition features the return of the 2014 Elkhorn winner, Unitarian, trained by Todd Pletcher.
We decided to feature this race because the race presents a number of challenges and has the potential for solid payouts both in Intra-race and Multi-race wagering.  Of the eleven horses entered, five are returning from layoffs from 140 to 224 days.  Unlike last year's edition of the Elkhorn, where there was a relatively fast pace for a 12 furlong race, TimeformUS is projecting a slower pace that might benefit horses on or near the lead.
And, if that's not enough, the condition of the Keeneland Turf course is a question mark.  The course has been wet in the days leading up to this race, and on Friday it was labeled as yielding for all the turf races. The weather Saturday is projected to be good, but we still expect there to be some "cut" in the ground, and probably be labeled as "Good."
This field also brings together a good combination of horses in the prime racing age of four to six years old. There are horses with improving form, yet lacking experience in G2 Stakes races.  There are horses with proven ability at 12 furlongs and others who have not been involved in races over 9 furlongs.  And another horse (Carey Street) is a proven marathon horse, but only on the dirt surface.
So there is much to consider, and for that reason, the potential exists for large payouts.  Without further adieu, we offer our analysis of the horses in the 2015 Elkhorn Stakes.
If you missed our introductory articles on the "Get A Leg Up↑" series, click here to read the Introduction and Overview article. In this article we explain the intention of our series is NOT to make selections, but rather to give horseplayers a head start or as we call it, a "Leg Up" on a race we think is interesting.
Pace Projector and Handicapping Comments
The full Past Performances for this race are available on TimeformUS free of charge. Click on their Pace Projector for this race to create an account or login to an existing account.
Click here to learn more about the terminology used in the Handicapping Comments that appear below.

We encourage comments and questions from readers, especially if you notice something in the PPs that you think is important that we overlooked. You can leave comments at the bottom of this page. Thank You.
---
If you are looking for more information on structuring your Intra-Race and Multi-Race wagers for this race, we offer the following links for additional reading:
---
Post-Race Recap
Click here to read the complete race chart on Equibase.
The "post-scratches" TFUS Pace Projector was spot on with the projection of #1 and #3 being the pacesetters. Of particular interest was the projection of #1 being so close to the pace, given his running style at shorter distances, where he was mainly a "closer" coming from off the pace. More on this topic in the Lessons Learned section below.
The scratches in this race (#7, #8, and #11) were significant given they were projected to be three of the four pacesetters in the race. Fortunately, TimeformUS does provide an updated Pace Projector after the scratches are announced. Below is the "post-scratches" Pace Projector.
Dramedy used a different tactic today from prior races at shorter distances. With only one pacesetter (My Afleet) in the race, Joe Bravo positioned his horse very close to the lead early, and when he overtook that horse with a furlong to go, it was a matter of holding off the late closers, which he did by a diminishing neck at the finish line. While there were questions about Dramedy being able to get a marathon distance, the combination of positives (e.g. rising figures, closing well on turf, a recent bullet workout, and good company in last race) and the pace scenario combined to make for a very rewarding return of $63 for his supporters.
Dynamic Sky made a game run down the lane to miss by only a neck. Once again he proved his abilities in Graded Stakes at marathon distances and his preference for turf courses with some "cut" in the ground, as the turf was labeled as "Good" today. It's probably safe to say that questions about his form in the past two races can be answered by the surfaces (dirt and firm turf) not being ideal for him.
Unitarian also finished stoutly, a head behind Dynamic Sky in 3rd position. He simply had too much distance to overcome, having been around 16 lengths behind the leaders at the 1-mile marker. His "deep closer" running style requires some amount of pace in the race. With that said, once again he proved his abilities in Graded Stakes at marathon distances and will likely be a serious contender in future races of this kind.
Biz The Nurse finished 4th, a length behind Unitarian. Like others, his late running style likely compromised his chances. The chart states "continued on fairly well between rivals but failed to seriously threaten." It remains to be seen if this Euro-import is going to be a major player in these type of races in North America.
Aldous Snow trailed the top two in the 3rd position for most of the race, but faltered in the lane and was never a serious threat. The combination of a long layoff and proven dislike for turf courses that are not firm were likely factors.
My Afleet was the co-pacesetter in the race, but tired markedly in the stretch run. Given his prior good efforts at marathon distances, it's probably fair to say that the lengthy 224-day layoff was a factor. This 4-year old should gain from his first experience vs. older horses and the conditioning from this race.
Carey Street was never a factor, and despite his previous good efforts at marathon distances, it seems reasonable he is a dirt-only type of horse.
Holiday Star never got involved in the race, without any apparent excuses. Given his trainers good record with horses coming off a layoff, it's reasonable to question this horse's form based upon his last two races.
Lessons Learned:
It's always worth another look at the TFUS Pace Projector after the scratches have been incorporated into the race. In this race, it clearly pointed out the two horses who would dominate the pace. And as the old adage goes, "Pace Makes The Race." TFUS relies on pace figures to determine where a horse will be positioned in a race. So, despite #1 having been a "closer" in prior races, his pace figures suggested that he was faster than the majority of the field and nearly as fast as #3. In this case, the pace figures proved to be quite accurate.
Also, regarding the winner, Dramedy … in our comments we pointed out that he had "no marathon races" coming into this race. An important reminder is to differentiate between something a horse has never attempted to do vs. something a horse has repeatedly tried, but failed to accomplish. The latter should be a negative, the prior more of a caution.
Video Race Replay
Click here to watch the video replay on the Keeneland website.  Select "Replays" and then the date (Apr. 18) and Race #9.
---
If you don't want to miss any of the future articles in this series, we recommend that you subscribe to the Blog via e-mail and/or follow us on Facebook or Twitter.  All of these options are available on the right hand panel of the website.
---