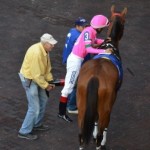 UPDATE: Post-Race Recap Added.
The 9th race at Keeneland on Saturday is the Grade 2 Dixiana Elkhorn Stakes, a turf marathon for horses 4 years and older. This edition features the return of the 2014 Elkhorn winner, Unitarian, trained by Todd Pletcher.
We decided to feature this race because the race presents a number of challenges and has the potential for solid payouts both in Intra-race and Multi-race wagering.  Of the eleven horses entered, five are returning from layoffs from 140 to 224 days.  Unlike last year's edition of the Elkhorn, where there was a relatively fast pace for a 12 furlong race, TimeformUS is projecting a slower pace that might benefit horses on or near the lead.
And, if that's not enough, the condition of the Keeneland Turf course is a question mark.  The course has been wet in the days leading up to this race, and on Friday it was labeled as yielding for all the turf races. The weather Saturday is projected to be good, but we still expect there to be some "cut" in the ground, and probably be labeled as "Good."
This field also brings together a good combination of horses in the prime racing age of four to six years old. There are horses with improving form, yet lacking experience in G2 Stakes races.  There are horses with proven ability at 12 furlongs and others who have not been involved in races over 9 furlongs.  And another horse (Carey Street) is a proven marathon horse, but only on the dirt surface.
So there is much to consider, and for that reason, the potential exists for large payouts.  Without further adieu, we offer our analysis of the horses in the 2015 Elkhorn Stakes.