Emerald Downs – A Fun Night Out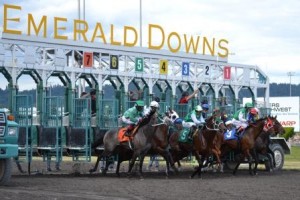 Exactly one year ago, on our way to an Alaskan cruise vacation, we decided to spend a couple extra days in the Seattle area so we could visit Emerald Downs Racetrack.  We were lucky enough to have timed our visit so we were there for their annual "Fireworks Spectacular" celebrating the July 4th holiday. Having never been to Emerald Downs, we did not know what to expect.
To put things in perspective, my hometown racing venue is Saratoga, a mecca of horse racing, where the purse for one Maiden race exceeds the sum total of the purses for all nine races ($61,475) at Emerald Downs the day we attended.  The "feature" race was an $18,000 Claiming race with a purse of $14,800.  But we learned there is more to the "quality of racing" than the claiming tag or the so called value of a horse.  There is also the "quality of the racing experience."

From the moment of arrival, we were pleasantly surprised by the quality of service and the energy and enthusiasm of employees, fans, and horse people.  We quickly secured two seats for a reasonable $10 apiece and were told to enjoy the racing and the fireworks, which was a great bonus for us.  Whenever I visit a new racetrack, the first thing I do is wander around the facility to get the lay of the land.  I need to know, where are the least busy betting windows, bathrooms, beer and food selections, and the paddock (where the horses are saddled).
After my first pass, I look for things that might be unique to the racetrack. At Emerald Downs I found the following display of horseshoes. I had heard some of the names before, like Bar Shoe, Queens Plate, and Wedge.  Now I could visualize what they actually looked like.
In the middle of the main building I located a booth staffed with people who help new fans understand the sport. For several minutes I acted like a "newbie" just trying to feel out their level of patience and the quality of the information they provided. I must admit that I was most impressed with an elderly gentleman who really took his time and endured my "newbie" questions. Later I confided that I was really an experienced horseplayer and he took it well, wanting to know if he passed the test!
He gave me an Emerald Down Wagering Guide. For being compact and only about 15 pages long, I was impressed with the content between the pages. There are some solid wagering examples, from Win-Place-Show to Keying and Wheeling a Trifecta or Superfecta.  There's a good explanation of horses' running styles and the reason why some horses prefer short or longer races.  Additional sections on Jockeys and Trainers was well done, with a nice explanation about "rider changes" and how jockeys normally want to be riding the best horse in a race, but sometimes make concessions to fulfill obligations to a particular stable.  Good stuff!  Click here to be see the Emerald Downs Webpage where you can download the guide in a PDF format.
---
For my own personal handicapping experience at Emerald Downs, I decided to adopt a "Jumble Player" mentality for the evening's card.  I did this because I knew I would be distracted by the activities of the evening and I didn't have time to handicap the entire card.  So I picked three races having horses showing a couple of my favorite angles.  In the 3rd race, was a horse named Decisive Fact, who proved to be my best selection.  Here are his PPs.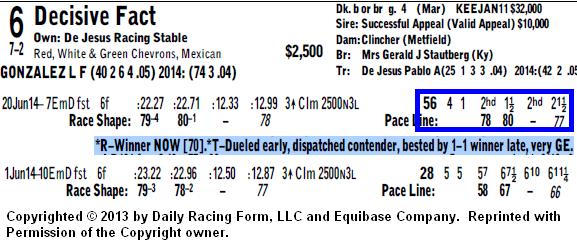 The three things I liked most about this horse were:
His early speed in his most recent race on June 20, following a race on June 1 where he did very little running.
He was cutting back in distance by 1-furlong from a 6f to a 5f race.
Visually handicapping his previous race, I added a trip note explaining he had dueled with another horse early, put that one away, and was caught late by the even-money winner (Premium Quality), who happened to win his next race with a Beyer Figure of 70. The trip note is highlighted in blue.
When I saw his post time odds were 5-1, I decided to double my original bet, and see if I could get some money in the bank early.  Everything worked out well, Decisive Edge got a perfect outside position stalking the inside speed throughout the race, then drew even with him near the top of the stretch, and pulled away for a 2-length victory.  It was pleasing to come away with the feeling that the same principles can apply in a $2,500 claiming race as in another race worth ten times more in value back home.
Gambling aside, our experience at Emerald Downs was simply put: A fun night out.  The fireworks show was definitely worth staying for after the races.  And, as the photos below show, there were plenty of people taking them in as well as the racing.  We loved that many of the outriders got into decorating their horses in the theme of Red, White, and Blue.  Given the chance, we would return to Emerald Downs in a heartbeat.  Click here to be transferred to their website, which is loaded with material, and for newbies, the "New To Racing" section has lots of information to get you started.
---