Follow A Horse – Full Tap (Returning June 24, 2015)
Updated: June 24, 2015
Last summer we featured Full Tap in an article about individual horses making their debut.  At the time she was a promising 2-year old in the barn of Christophe Clement. She made her debut at Saratoga on July 18, 2014 in a 51/2 furlong race on the dirt.  She finished 3rd that day behind a horse, The Lewis Dinner, who went on to win three races as a 2-year old, including two stakes races.
Full Tap has not raced since that day, 341 days ago.  She did not have any injuries, and the decision was made to just let her "grow up" in the words of Assistant Trainer, Thomas Brandebourger.  Thomas added, "She is doing great and looks stronger than last year. She had some fast works here at Saratoga without being hard on her, to keep her mentally on the right side."
Full Tap is returning on Wednesday, June 24 in the 2nd race at Belmont Park, in a 6-furlong maiden race on the turf. Regarding the change of surface, Thomas explained "She showed us she was moving well on the turf (in workouts)." Her two official workouts on the turf were at Payson Park in April-May, and she has since put together four solid workouts over the training track at Saratoga.  Thomas ended by saying, "The filly is ready and we are expecting a very good performance from her on Wednesday."
Race Result:
Full Tap lived up to her expectations and won by a comfortable 2 1/4 lengths, being "geared down in the final strides."  Click here to see the complete race chart.  Here is a photo of Full Tap taken the day after her first career victory.
THE FOLLOWING IS THE ORIGINAL ARTICLE PUBLISHED ON JULY 16, 2014.
Today we launch a new series of articles, called "Follow a Firster." Before we get into the specific details of our first horse, let us explain the intent of this new series. In an interview a few months ago, trainer Michelle Nihei said to us, "Racing is about horses, and the stories behind the faces of the horses are really cool." That was the genesis for the idea – to follow a horse from their arrival at a barn, to their first race, and then beyond if possible. In doing so, provide fans a glimpse of the excitement of preparing and watching a young horse make their first start.
In this quest, Christophe Clement agreed to give me full access to his barn, including any conversations I wanted to have with his Assistant Trainer, Thomas Brandebouger, and other personnel associated with his horses. Thomas immediately identified a 2-year old filly named, Full Tap, as one of two horses we should follow. So we introduce you to Full Tap and her coterie of handlers.
Full Tap was foaled on March 28, 2012. Her sire, as Thomas says, is "fashion stallion of the moment, Tapit." Tapit was also the sire of Tonalist, who won the 2014 Belmont Stakes for Clement Stables. Her dam, Miss Challenge, won $124,000 in eight starts, and was by Champion Sire, More Than Ready. With these impressive bloodlines, Full Tap sold for $430,000 at the Fasig-Tipton 2013 Preferred NY Bred Yearling sales.
As you can see in the photos, Full Tap is a very attractive bay filly with a white stripe that extends from above her eyes down to her nose. I asked her groom, Robert Cutler, what she's like around the barn. He said, "In the mornings she can be a little nasty until you put a shank on her, but then she's fine." On one occasion I was watching Robert brush her back end, and she kept lifting up her hind leg, and Robert explained, "Most fillies don't like to be groomed back here. They pick up their legs. She's not terrible about it though."
On another day, I watched Robert apply poultice to her legs, before wrapping them. He explained, "Poultice draws inflammation out. It can be used as a preventative, or sometimes there is a little thickness there that needs to be treated." He went on to explain that first thing in the morning, he will wash off the poultice so the trainers can check her legs to make sure all is good before they do any exercise.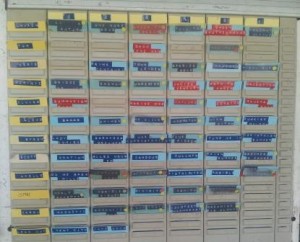 Unless a horse has an injury, they all exercise every morning in what are referred to as "sets." To the side you can see the layout of a typical morning at Clement Stables.
The left hand column contains the names of the exercise riders, and in columns labeled "1-6" are the horses that will exercise in each set. Horses in red will have an official (timed) workout that day. While those in blue will be jogging or galloping around the track, with specific instructions given by the trainer to the rider.
On June 30, I went to Saratoga to watch Full Tap have an official timed workout from the gate. As she was waiting to break from the gate, the horse next to her acted up and got caught under the gate. I was surprised how calm Full Tap remained throughout the whole ordeal.
Her exercise rider, Lauren Kasnet, said to me after "She was standing there the whole time, calm as can be. They didn't have anyone in there with her because they had to help the other horse. Then they opened the back for her, and she just backed out on her own, no problem. She handled it very well." Lauren continued, "For a baby, she's very mature. She does everything you ask her to do."
So far, Full Tap has had six officially timed workouts. In discussing the workouts, Thomas explained, "She loves to train and hasn't done anything wrong in her workouts." Below is the chart of her workouts.
You will notice that she has gone from three 3-furlong workouts, to 4-furlongs, and then 5-furlongs. Thomas says this is a typical progression for a 2-year old leading up to their first race, including a final 3-furlong work, intended to "put some speed into her." I asked Lauren if she did anything different in this final workout, and she replied "Nothing really different. She did work alone today and she did it easy without really being asked, just very straight forward."
You can see that two of her workouts involved breaking from the gate. Doing this at least once is a requirement for a first-time-starter before they are allowed to start in a race.
I asked Thomas about having only "breezing" type workouts, and he explained this is the approach of Clement Stables. He said, "We know they can run. We want to keep them sound and happy in the morning. Then let them run in the afternoon." One final note on the workouts, Full Tap regularly worked "in company." This means she was alongside another horse throughout the workout. This gives her the feeling of being in a race. Most often that horse was another 2-year, a colt named Saratoga Dreamer, who is expected to make his debut at Saratoga as well. The lone exception to that was in her last workout on July 15, where we noted above that her exercise rider said she worked alone.
After their morning exercise, horses are cooled down. First they are walked around a circle with their exercise rider on back. Then walked a bit more by a "hotwalker," and finally washed down with a refreshing morning bath. To the side you can see Robert giving Full Tap the royal treatment.
Having watched this routine several times, I noticed that none of the horses objected to this part of the morning program. They all seem to thoroughly enjoy a nice bath. After this they are fed some breakfast and then it's nap time until the afternoon. In the afternoon, they are taken out of their stalls for some light exercise, usually walking around the stables, and then it's dinner time.
All of this preparation leads up to Full Tap's much anticipated debut on opening day at Saratoga on Friday, July 18, 2014. She is entered in the 6th race and has drawn post position #6 in a field of eight. Having spent several days observing this beautiful filly, I am getting a sense of excitement leading up to her debut.  Good luck to Full Tap and Clement Stable.
---