Gulfstream Park – Like Visiting A Tropical Resort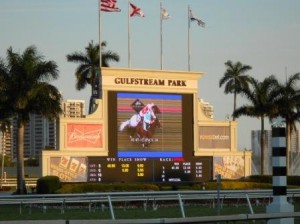 This will be my 4th consecutive year returning to Gulfstream Park race track in Hallandale Beach, Florida.  Every year the length of my stay increases.  After looking at some of my pictures and hearing a story, maybe you'll understand why.
The first thing very unique about Gulfstream Park, when compared to other race tracks, is the openness to the whole facility.  There are no admission gates, and you can enter and exit as you please.  Behind the race track is an entire "village" of stores, restaurants, and pubs.  Click here to read more about the village, including a directory and photos.
One of the fringe benefits to the GP village is allowing visitors (like my daughter) who need a break from the racing action during the day, to escape to someplace like the frozen yogurt store (like my daughter), and return unimpeded for more racing action. Or, if you're so inclined, you can pop into a restaurant or pub for a cold draft while on a break. There are many choices. For me, I save these activities until the end of the racing day.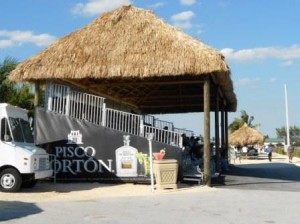 Front side at the track has the look and feel of a tropical resort, complete with beach sand, huts, and tiki bars.  There are TV screens mounted with video feeds from not only Gulfstream Park, but from other tracks around the country.
A couple years ago they added a very large tiki "stadium" (pictured to the side) near the top of the stretch that is a terrific place to watch the horses make their final charge down the lane.  It is also a great place to sit immediately after a race, to get a close up view of the horses walking by on their way to the paddock for the next race.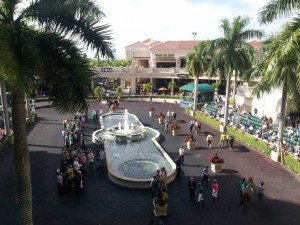 The paddock area is very unique, seemingly the center of construction in the middle of the entire facility.  It has substantial seating in a horseshoe shape around the walking ring, where horses can be observed close up after they are saddled in the covered saddling area adjacent to the seating.  In the center of the walking ring is a fountain, that after dark is illuminated with brilliantly colored lights.
All of the seating in the paddock, huts, stadium, and tiki bars is free.  There are reserved seats available on certain days in the grandstand/clubhouse area.  But, to be honest, I find the free seating much more enjoyable and usually find myself hopping around from one location to another during the course of the day.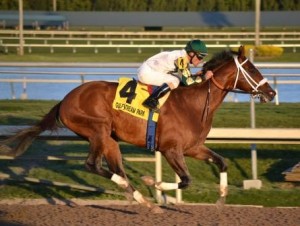 Last year I scored a personal double on Sunshine Millions Day when I snapped my favorite photo of the year, Mucho Macho Man with Gary Stevens on board.  That was the first half of the double.
After the race, I went to the jockey's room and with help of a jockey's wife, I was able to get Gary Stevens to sign a print of a Mucho Macho Man photo that I had brought with me to the track that day.
Now hanging prominently in my living room, along with the photos of my wife and two children, is the signed print of Mucho Macho Man.  Ka Ching!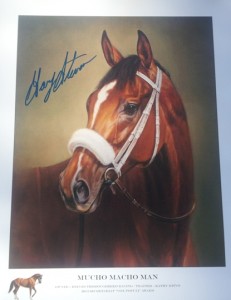 Now, for a story.  In April of 2011, I returned for my second visit of the year to Gulfstream in order to see the Grade 1, Florida Derby.  It was loaded with horses that were and would become very recognizable names: To Honor and Serve, Soldat, Flashpoint, and Stay Thirsty among them.  In addition to them were Dialed In, winner of the Holy Bull Stakes in January at GP and a little known horse at the time, Shackleford, who had only won a Maiden and Allowance race to that point.
I was accompanied at the track by an old friend, who is predominantly a Win-Only bettor.  For the entire day, we were pooling our money and jointly selecting one horse per race and making a $100 win bet.  I did not have a strong opinion on the Derby, so I told him to make the choice.  He selected Dialed In.  Sitting next to us was an elderly gentleman, whom we had been 'BS'ing with most of the day.  He said he was betting on Roman's horse, Shackleford … who happened to be 68-1.  He was a big fan of trainer Dale Romans.  Here is the video replay, it's worth the watch.
At the end of the race, I was obviously happy that our horse had won. I congratulated the Shackleford bettor on his great selection, figuring he must have cashed something on him. He handed me a $75 Win ticket.  I asked him, "Have you ever heard of a Place bet?"  He told us that he only makes Win wagers.  My old friend shook his hand and said, "You're my kind of horseplayer!"  We all laughed, and moved on to the next race.
Check back, I will have many more pictures and stories from Gulfstream Park in the coming weeks.
---