Monmouth Visit
Deb and I made our first trip to Monmouth Park (in Oceanport, NJ) race track over the Memorial Day weekend.  And while I'm not much of a travel critic, I will say that overall we really liked the Monmouth Park facility.  I know, you're probably thinking, has he ever met a race track he didn't like?  That would be a fair question.  And, the answer would be no … but, I do like some more than others.
We started the day by attending a handicapping seminar by Jim Mazur of Progressive Handicapping.  Jim publishes a meet specific guide to several major racetracks in North America.  He gave out free copies to his 2013 Monmouth Park Handicapper guide.  Thanks Jim.  Over the years I have utilized his Saratoga Handicapper guide, because it's full of good statistical information, especially on trainer related statistics.  Jim is a good speaker, and I do recommend seeing him in person if you find him in your area at some future point. Click here to link to his website.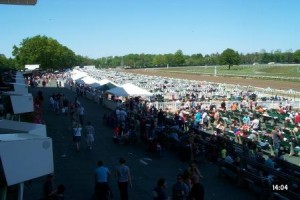 The seating options at Monmouth Park are widespread; from comfortable bench seats in front, to covered picnic tables along the top of the stretch, to free grandstand seats, to cafe style seating next to the paddock.  There were many food and drink options reasonably priced, or you can pack your own cooler of beer and sit in one of the BYOB designated areas.  I was a little surprised that bottles are allowed, as many race tracks restrict drinks to plastic and cans only.
Another thing I liked is that the sun sets behind the clubhouse and grandstand, so many of the bench seats are in the shade early in the afternoon.  This wasn't a big deal for us, because the temperatures were in the low 70s, but I'm sure on a hot summer day the shade would be very much appreciated.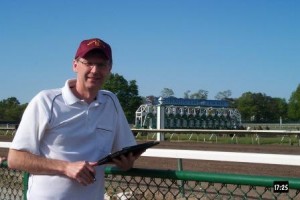 As far as the racing; I always find it a challenge when I'm visiting a race track for the first time.  Unfamiliarity with the trainers, jockeys, and the majority of the horses makes it difficult to bet with confidence.  In the end I managed to grind out a small profit, aided by the observation of how speed favoring the dirt surface was playing.
Monmouth Park has this reputation, but sometimes you have to see it in person to fully appreciate it.  By the 9th race, I'd seen more than enough.  The 4-5 Favorite (#7 Holiday Soiree) was a horse that tends to rally from behind, so I decided to key my play on an exacta with two horses (#4 Silverette and #1 Angel's Glory)  that have good early speed.
The order of finish was 4-1-7, and the 4-1 exacta paid $45.  A very square price considering there were only 7 horses in the race and that #4 was only 2-1 odds.
At the end of the day, for the seven races run on the dirt surface, the horse that won the race was in the lead at the top of the stretch … and was never more than a couple of lengths behind during the race.  That's what we call a speed favoring surface.  Another factor that benefits the front-runners is the relatively short stretch run (990 feet);  less ground for horses that come from behind to catch the leaders.  You can compare that to other tracks I listed in a previous post.
In future posts we'll get into topics of speed and pace in much greater detail.  Helping with my 9th race exacta play were Pace Figures that I used from the Daily Racing Form.  So keep an eye out for that topic in the near future.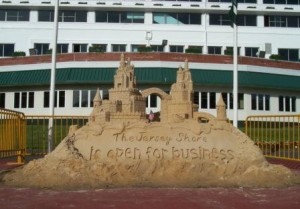 On my way out of Monmouth Park I took this picture of a sand castle built just inside the main gate.  Hurricane Sandy wreaked some terrible damage on the Jersey coastal area in October of 2012.
It's nice to know they're rebuilding and that the race track is playing a part in drawing people back to the area.
I know I'll be back.
---