Intangibles Make Saratoga Special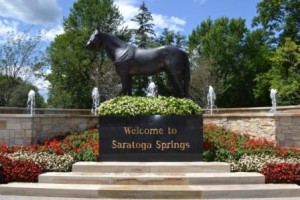 By Guest Author: Nancy Meyers
When Neal asked me to submit a series of articles about Saratoga, the initial idea was that I would focus on specific topics about where to stay, where to eat and what to see at the track and around town. I've enjoyed writing the articles and thank Neal for the opportunity to assist him during his time of recovery. My husband and I once again traveled to Saratoga earlier this month with our Corgi for another week to enjoy racing, the Philadelphia Orchestra at SPAC and a city that we felt we knew and love. It would have been easy to simply write about specific topics and leave it at that, but our recent trip to the Spa compelled me to ask Neal to allow me to write a final installment about the intangibles that make Saratoga so special.
As we exited the Thruway after a five hour drive, we turned onto Union Avenue. As Red Smith famously said, we felt as if we were once again transported back in time about 150 years. Approaching the track, we slowed to a crawl as NYRA employees stopped traffic to allow horses to cross over Union Avenue on their way to the track from the stables next to the Oklahoma training track. I can think of no other resort town where a public thoroughfare has a horse and rider crossing sign posted in lieu of a pedestrian crossing sign. You instantly know you are in a town with its priorities in order, especially if you are a horse racing or equestrian fan. That said, pedestrians are accommodated in the Spa City as well. Not once during our week stay did we ever see motorists honk, gesture or try to make pedestrians uncomfortable when crossing in the crosswalks. It's as if they have grown accustomed to the pedestrians' presence and respect their rights as much as their fellow motorists.
Day after day we encountered reminders of how things new can add excitement for the city's future while honoring the past. On our first walk toward Congress Park, we saw the wonderful bronze statue of Alfred G. Vanderbilt Jr.'s Native Dancer, the "Grey Ghost" and jockey, created by noted sculptor Gwen Reardon. The statue of Native Dancer, a horse that never lost at the Spa, is a gift to the city by Mary Lou Whitney and her husband John Hendrickson. It lets everyone know that Saratoga Springs is a city dedicated to great Thoroughbred racing. The statue is part of a fountain and floral display that opens to Centennial Park, which provides a natural flowing transition from the high traffic area of Union Avenue and Circular Street to Congress Park. What other city of approximately 30,000 citizens has a patron of untold wealth who so graciously gives that wealth to create new public spaces for its citizens and providing a beautiful reminder of one of the reasons so many travel to the city year after year?
That which was once old has been made new. The "Spirit of Life" monument of a beautiful, Classical woman overlooking a reflecting pool was constructed in 1913 as a memorial to Saratoga benefactor and advocate, Spencer Trask by his widow, Katrina. The monument and pool were looking a bit tired and worn in recent years. To celebrate the city's legal creation 150 years ago, government and civic leaders combined to raise over one-half million dollars to restore the monument and pool. Now the woman reflects the brilliant sunlight in restored bronze that is as blinding as the sun itself. The pool has been resurfaced so that the water is clean and still. We observed many city residents enjoying clear blue skies and balmy temperatures over their lunch hour sitting in quiet conversation next to the pool. The monument, instead of suffering a slow and steady deterioration and probable destruction, is restored. It reaffirms the city's commitment to ensuring that future generations are reminded that Trask's hope for all Saratogians was that they strive "To do good and serve my fellow man."
Perhaps there really is something in the water. Through the years we have regularly engaged in conversations with both visitors and locals residents and have asked the following question: "Do local residents appreciate the benefits of living in Saratoga Springs?"   Sometimes in the past we encountered local residents who would complain about racetrackers. They cast aspersions on them as nothing more than a nuisancewho create traffic, noise and fill the restaurants, dismissing any benefits they provide in the form of tax revenue and cash to local businesses. During this visit we spoke with many residents say told us they appreciated the benefits that tourists and racetrackers provide them through tax revenues used to support public parks and programs, and cash to restaurants and businesses that allow them to remain open year round. They are grateful that tourists attend events at SPAC and other venues in the region, thus inducing the performers to return year after year.   On our recent night at SPAC, we met some very fine people who suggested we get a cup of free ice cream courtesy of Stewarts Shoppes and when the show was over saved us a cab fare by giving us a ride back to our apartment. Thank you Steve.
Finally, we often hear racetrackers refer to themselves as "degenerates." That's too bad because aside from soccer hooligans, there isn't another group of sports fans who have a negative term so frequently associated with them. Over the last several years we have made many friends at Saratoga racetrack, and they are not degenerates.   They are kind, friendly, charitable, hardworking individuals.   They hold important and honest employment in government and private business, professional degrees and support their families. Neal Benoit, his wife Deb and their family are part of this fine group of people. Thank you Neal and Deb for your friendship and generosity and permitting me the chance to share our love of Saratoga with the readers of Getting Out of the Gate.
By Guest Author: Nancy Meyers
---