Elapsed Time – So How Fast Did Your Horse Run?
We've covered a lot of ground about distance, class, form, pace, figures, etc. But one area we haven't touched upon yet is TIME. I frequently get asked questions like, "What's a good time for a 6-furlong race?"
Of course this varies by track, surface, and weather conditions but a "good time" for six furlongs is around 1:10 (one minute and 10 seconds). This works out to an average furlong time of around 11.6 seconds. Or roughly 12 seconds per furlong. And this is a pretty good start for an average.  But, as we will explain, there are lots of ways to get to an average.For example, dirt sprint races frequently have faster times early (e.g. 11 seconds per furlong) and slower times later (e.g. 13 seconds) in a race.  While turf route races are often run slower in the beginning and faster at the end.
The printed copy of The Daily Racing Form presents time in the Past Performances (PPs) in the format of "elapsed time" of the leader at each point in the race and the winner at the finish line.  Let's use a specific horse as an example and show you what we mean.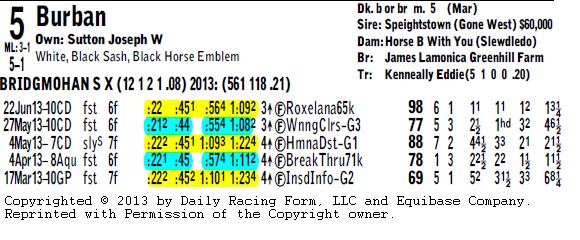 In Burban's most recent race (June 22) she led from beginning to finish.  The first quarter of a mile (2 furlongs) was run in 22 seconds. The half mile (4f) was run in 45 1/5 seconds.  Five furlongs in 56 4/5 seconds.  And the final six furlongs was completed in 1 minute and 9 2/5 seconds.  Since she was in the lead all the way, these times represent exactly how fast Burban was running.
However, in her race on May 27, she did not lead all the way.  The final time of 1:082 represents the time for the winner of the race, not Burban.  She finished in 4th place, beaten by 6 1/2 lengths.  So, how fast did Burban run?
In order to answer that question, we'll look at the same races, but using the DRF Formulator software, we will change the times to represent the exact times for Burban.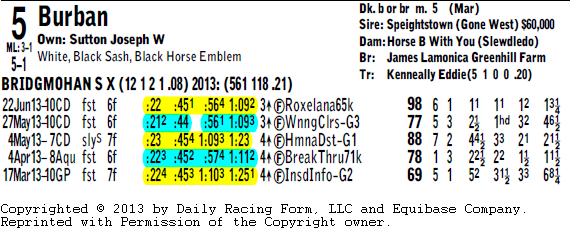 Since Burban was in the lead at every call and won the June 22 race, the times are identical.  However, on the May 27 race, you can now see that she actually finished the race in 1:09 and 3/5 seconds. The program calculated her time based upon the number of lengths she was beaten. The rule of thumb is to add 1/5 of a second for every length beaten or behind.  That's if you're trying to do the math in your head.  However, the program actually sees the times in hundredths of a second and can be more precise.
For this reason, and my lack of desire to do much math, I always instruct Formulator to show me the times for the specific horse I'm reviewing and not the default leader/winner times that appears in the printed copy of The Daily Racing Form.  In fact, to be even more precise, I use Formulator to convert the times to hundredths of a second and I'll explain why.  But first, here are the PPs converted to hundredths of a second.

The reason I do this becomes apparent on the May 4th race.  If you look above ( on the standard format) for the final time, Burban is shown as having run in 1:23 flat.  That's because the program does not click up to the next 1/5 second until it is reached exactly.  So a time of 1:23 can represent an actual time between 1:23.00 and 1:23.19.  That can equate to a difference of one full horse length on the extremes.  So on her May 4th race, Burban was only 1/100 of a second away from having a time of 1:231.
You might be thinking, what's 1/5 of a second?  And, most of the time you'd be right.  I know people who still prefer to see the times in the old standard format.  You might too.  But, the nice thing about Formulator is you have the choice.  With a printed copy of the Racing Form (or a Program) you don't.
Another choice you have, and one that I use often, is converting the time to "incremental splits."  This option allows you to see the times for each furlong and/or quarter mile by the amount of time run for that duration of the race.  I'll be demonstrating that in another article, and explaining where I think that information is especially beneficial.  Hint: Think … Turf Pace.
---

Modeled after European style turf courses, come visit the only one of its kind in North America. The author had a truly enjoyable visit to this unique race course last year. Click here to read more about that adventure.
Saturday, September 13, 2014 will have four Stakes Races, including the Grade 3 Kentucky Turf Cup worth $600,000.
---