Insights From Maggie Wolfendale In The Aqueduct Paddock
I went on a spur of the moment trip to Aqueduct and  I contacted Maggie Wolfendale to see if she'd be willing to meet my wife Deb, and spend some time with us in the paddock.  She said, "Sure, no problem." Maggie is the paddock analyst for NYRA, and we introduced her in a prior article.  Click here to read more about my first visit with Maggie at Saratoga in August.
This meeting was more informal than my first time with Maggie at Saratoga. For the most part, we just conversed on whatever topic came to mind as we were watching the horses in the paddock. Deb was very intrigued by the whole experience, and asked most of the questions. As I mentioned in the prior article, she's a big fan of Maggie. Here, in no particular order, is a list of some topics that came up.
In a sprint race, Maggie referred to a horse as being "built downhill," and Deb wanted to know exactly what that meant.  Maggie explained, "Downhill means that the point of their hip is higher than the point of their shoulder."  She went on to say that the favorable body type for sprinters are horses that have a large, round hind quarter and are built downhill.  Also, they tend to be shorter coupled (i.e. stocky) in their back.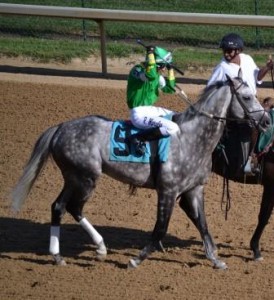 In another race, Maggie pointed out the "dapples" apparent on a horse and suggested that it was a good thing.  Dapples are circular formations of a slightly different shade that appear on the skin of a horse.  Deb wondered if these just appear naturally, and whether grooming has anything to do with their appearance.
Maggie said, "Yes, good and frequent grooming does bring them out, but they wouldn't be there in the first place if a horse wasn't doing well on the inside too."  So we asked if the absence of dapples is a bad thing?  Maggie replied, "No, if they (dapples) are not apparent on a horse it's not a negative, as long as the coat is still lustrous and rich looking.  A dull, dry coat is the first indication that a horse isn't doing well."
Deb wondered about the impact of the change of seasons on a horse, and in particular how a horse copes with the coming winter months.  Maggie explained that the same "dull, dry coat" suggests that a horse might not be handling the change of season.  But, proper blanketing through the winter should prevent any of this.  She also said that "it's always easier for a horse to ship to a cold climate rather than a warm one."  So, horses training in Florida that ship north for a race generally run better than those doing the opposite.
In another race, Maggie pointed out a horse in the paddock that appeared to be recovering from a skin disease.  We asked her what might have caused the condition.  She explained, "Skin problems, such as ring worm, are contagious but generally affect horses with compromised immune systems.  It's easily spotted by a loss of hair or bumps on the skin."
Later we asked about the testing of horses for illegal drugs; whether or not all are tested or if it's done randomly.  Maggie explained, "In New York, post race testing is done on horses that finish within the superfecta.  Also, horses that are claimed are tested.  And, finally the stewards can call for a "special" testing of a horse (e.g. a horse who is heavily bet that runs last)."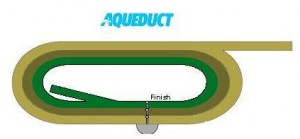 Aqueduct has the unique design of having two dirt courses, including an "inner" dirt course that features racing during the coldest of winter months.  We wondered what makes it specially suited to running races during the harshest of conditions.  Maggie explained, "The inner track has a limestone base with salt in it that prevents it from freezing and allows maintenance to water it to keep it fast and prevent it from becoming 'cuppy,' like a beach."
Finally, in one of the latter races a top jockey seemed to have a choice of mounts in the race, having ridden more than one of the contenders in a prior race.  I asked Maggie how much emphasis she places on jockeys selecting one horse over another in a race.  She replied, "I don't put too much into that because it does have a lot to do with loyalty (to an owner and/or trainer) and who the agent gave the call to first.  It's so hard to know what goes on with the agents, jockeys, and trainers, so I just focus mainly on the horse."
Deb and I had a SUPER time hanging out with Maggie in the paddock at Aqueduct.  We thank her for her time and patience putting up with us.  We hope that by sharing some of our conversation with her, you will get more insight into the thoughtful work that Maggie does day in and day out for New York racing fans.
---