Tips From The Del Mar Paddock – With John Lies

Being mostly an East Coast horseplayer, I rarely give much thought to racing venues west of Kentucky. For the majority of the year there is plenty to keep me busy without having to "go west young man." But, with the introduction of a Fall Meet at Del Mar, and me pining for the warmth and sunshine that left Saratoga with the horses, I decided it was time to dip my toes in the racing sands of southern California.
But before making any serious wagers, I decided to get some help from a friend that has a birds-eye view of the racing at Del Mar.  John Lies is the on-track & simulcast television host that reports live from the paddock at Del Mar each race day.  In addition to that, John is the track announcer at Lone Star Park, Will Rogers Downs, and Kentucky Downs.  It was the latter track where I first got to know John and wrote a recent article about Kentucky Downs and described John's "natural teaching qualities."  In addition to that, in 2013 we did a full interview with John.
In a recent conversation with John, I asked him for some tips for horseplayers unfamiliar with Del Mar.  The following Question and Answer dialogue took place, and I'd like to share it with you.
How would you describe racing at Del Mar in general terms?
Del Mar is truly one of those "Horses for Courses" tracks, and it's not just about the Polytrack surface, which was installed in 2007. Despite the change in surfaces, there are other factors that have not changed in the 30 years I've been going there. There's just something about Del Mar that horses respond to whether they're racing on dirt, turf, or synthetic. For example: the climate, the proximity to the ocean, the air quality, and all of the different atmospheric things. Some horses simply thrive in that atmosphere. They might go off form when they were at Santa Anita or Hollywood Park, but then they wake up when they get to Del Mar, and often times at good odds, because the bettors let them go due to their dull form at the Los Angeles tracks. That has been true forever.
So it's important to note the lifetime record of each horse at Del Mar. And maybe give a horse a pass on a couple of bad efforts at Santa Anita if they were preceded by solid races at Del Mar over this past summer. Especially if you're talking about the Polytrack surface, because it's so much different than other surfaces in California. That cannot be overstated – there is a huge difference between the synthetic surface horses are running over at Del Mar and the dirt course at Santa Anita. That makes it vital that a horse has to like this track.
Just in the first three days of the current meet, we've had several examples of horses that were clearly better on dirt than synthetic, or vice versa. It's obvious on paper, but sometimes the bettors just don't clue into that, and you get value on horses that are either being bet down or ignored based on a couple of races they had recently at Santa Anita.
I noticed that Del Mar has one of the shortest stretch runs in North America, only 919 feet. How does that play into the running of a race?
In a general sense, that favors a speed horse, because as soon as you hit the top of the stretch you're almost home. You can get away sometimes with getting a speed horse home that would not hold on with a longer stretch like Churchill Downs or Kentucky Downs. At Kentucky Downs, if you're getting involved over on the turn, then you're moving far too early 90% of the time, but it's the opposite at Del Mar. You may need to get into the race earlier, and you might be able to break away with a speed horse at the quarter pole and have him hold on because of the short stretch.
What are your thoughts on whether the track plays to speed or closers?
Well, the short stretch is a factor, but I do think you can close on Polytrack. And I do believe that track bias can be exaggerated in horseplayer's minds. I think these patterns do exist, but horseplayers and analysts overplay them sometimes. I try to make note of it, because some people are really focused on that, but I try not to overdo it.
How would you describe the Turf course, and in particular the chute used for races that are 8 ½ and 9 furlongs?
Del Mar has tight turns on the turf course, and the chute is part of that journey. Some horses run better on a straight-away and some horses handle the turns better than others. Sometimes it's just the fact that a horse handles the tighter turns that makes them good on the turf, and that's especially true at Del Mar.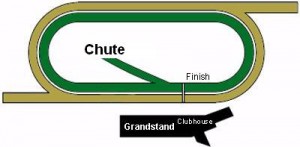 In the Del Mar track diagram to the side, you can see the "chute" that John is referring to in the previous paragraph.
Races run at 11/16 and 11/8 mile start from this chute on the interior of the racetrack.
The only distance for Turf Sprints at Del Mar is 5 furlongs, how do these races compare to the standard sprint at Santa Anita of 6 ½ furlongs?
Those two races are completely different races. That cannot be overstated. The only thing that is the same is they are both categorized as turf sprints. The horses that have run well at Santa Anita going 6 ½ furlongs are usually better suited to going a mile at Del Mar than the 5/8 mile. That trip at Santa Anita is good for milers … we just saw that in the Breeders' Cup Turf Sprint. I've heard some jockeys say after the downhill run, and making the turn over the dirt, it feels as though you're finishing uphill, even though you're going flat. So, horses that run well there will often do much better at a mile on other tracks. So again, it's important on the Del Mar turf course, in these sprints, to see if they've run well here before … or at least come from another course that has similar turns.
Related to this topic, I'd like to see Del Mar return to the 7 ½ furlongs distance they ran back in the 1980's. They haven't done it since they opened the infield to the public, because they no longer have a place to move the starting gate to get it out of the way. But, I'd like to see it return because it bridges the gap for the horses that have been running the 6 ½ furlongs down the hill at Santa Anita. To me, that's a closer match and suits the needs of the horse population here better than the 5/8 of a mile around one turn. Seven and a half furlongs is a common distance nationwide, and it's just short enough to give true sprinters a chance that can't get a 2-turn mile.
On the subject of trainers, can you give us a heads up on a couple that fly beneath the radar out here and might offer some value to bettors?
Ron Ellis is never going to be in the top 5 or 6 in the standings because he doesn't run that many horses, but he excels with "fresh horses." If you get a Ron Ellis horse that's been off for 60-90 days, or maybe after claiming a horse he gives it some time off, he has unbelievable results no matter which track.
I'd rather bet on one of John Sadler's horses at 8-1, than one that is a 6-5 favorite. I don't have any statistical information to back that, but that's something I've noticed for years. Doesn't mean that he can't win at 6-5, but at the end of the day it's hard to make a profit at those odds.
Also, A.C. Avila is another guy to consider at the 6-1 to 9-1 range. He'll have runs of 0 for 10, where his horses are 30-1, and finish up the track. But, when the money shows, even just a little bit, putting a horse in that single-digit range, it's worth taking a look at.
On the topic of jockeys, I noticed Martin Pedroza won three races gate-to-wire last Saturday at odds of 6-1, 12-1, and 22-1. Do you have any thoughts to share on him or other jockeys?
Pedroza has been around a long time and is a very good journeyman rider. He does know how to put a horse into a race. But, who knows, he might have been on the right horses that day or benefitted from the way the course was playing.
Three jockeys known as "speed riders" are Tyler Baze, Martin Pedroza, and Edwin Maldonado. These are riders with the reputation of being good on the lead. Also, Victor Espinoza is another good hustling rider.
Rafael Bejarano is an outstanding rider, but there is one chink in his armor, and it's the starting gate. For whatever reason, you'd be surprised how many times he breaks a half-step slower than the majority of other jockeys. Doesn't mean he can't hustle a horse into the lead, but you have to hope that it's not a race where a horse can get loose out there and he just can't catch them.
Peter Miller, Doug O'Neill, and John Sadler love to use all kinds of different jockeys on their horses. I think they understand that some horses respond better to different riders. Some horses need a jockey that gets along with them, and these trainers might use a lesser known rider that has been able to get on the horse in the mornings and has proven that he gets along with the horse. And they don't just use them, but will win regularly with these lesser known riders … or maybe hit the board when the horse was 25-1 because the public didn't pay attention to them due to the jockey. Also, by using different riders, it keeps people guessing and keeps the agents hungry. I think the trainers realize there is an advantage to diversifying and not sticking to just one guy.
What track seems to be the closest to the Del Mar synthetic surface?
It seems horses that run well on the Tapeta surface at Golden Gate generally run well over the Del Mar surface. That seems to be the closest link.
Any final thoughts?
Even though the surface will be returning to dirt next year, there are still going to be horses that thrive in the Del Mar environment.
---
You can find John's daily selections for the Del Mar races on their website. Click here to read them. John explains that he writes his comments in such a way that even novices who never come to the track can understand them. But, for advanced fans, the point is clear why he likes a particular horse. Also, during his live on-air commentary from the Del Mar paddock, he gets more in-depth and provides some tidbits of information that even the savvy handicapper might not have in the black and white of the program.
In closing, I'd like to thank John for sharing his thoughts with us, and encourage readers to check him out on the simulcast feed from Del Mar.  That recommendation goes double for readers that are fairly new to the sport, because you will find that John has a way of explaining things that works for listeners of all levels.
Footnote: John will not be in the paddock on Saturday, November 15 due to obligations at Lone Star Park.
---
Addendum (Nov. 15, 2014):
John Lies sent me a message last night suggesting that I look at the results of Race 2 on Friday, November 14.  He said it was a good example of something we discussed earlier.  The favorite was a horse named Street Swap, who went off at odds of 1.10 to 1.  The 2nd choice was Distinctiv Passion, at odds of 2.2 to 1.  Below are the recent running lines for each horse.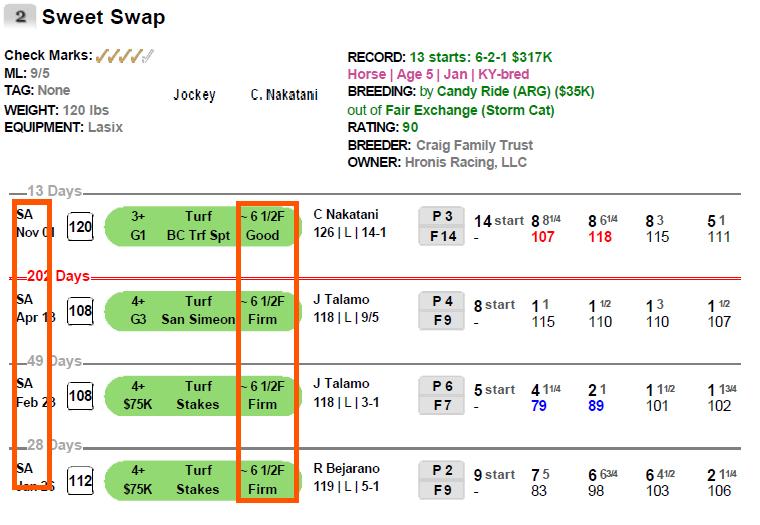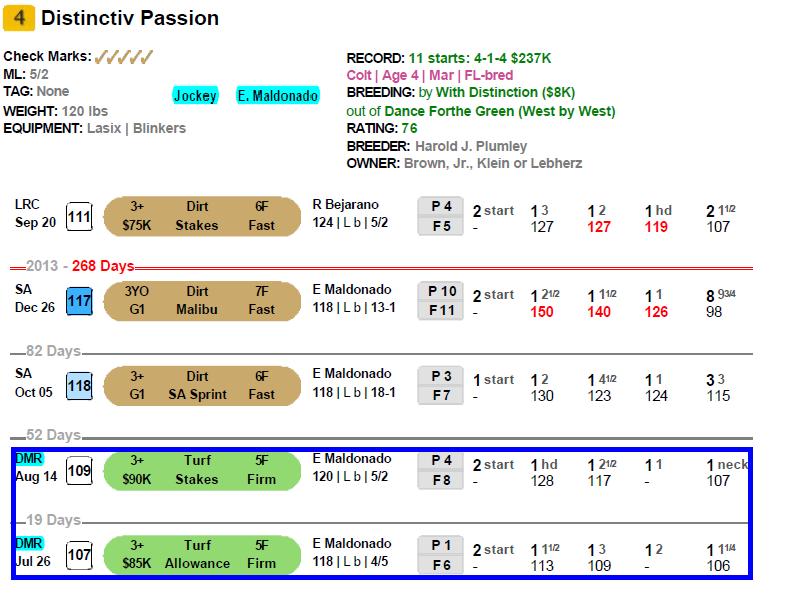 You can see from the PPs that Street Swap was exiting a solid effort in the Breeders' Cup Turf Sprint, but that was at Santa Anita over the 61/2 downhill turf course.  In fact, his last four races were over that same course. Looking back in his PPs you will find only one attempt over the 5-furlong Del Mar course – early in his career he finished 5th.
Contrast that to Distinctiv Passion, who had two solid efforts over the Del Mar turf course, just this past summer.  Add to that his obvious edge in terms of Pace Figures (underneath the running lines) and the presence of "speed rider" Edwin Maldonado (as John described him in the article), you have to wonder why he wasn't the favorite instead of Street Swap?  Maybe, as John hinted above, the bettors simply overplayed his recent form on a different track, at a very different distance.
So, what happened?  Distinctiv Passion broke quickly, set an uncontested pace, pulled clear at the top of the lane, and beat Street Swap by nearly two lengths at the finish.  The latter horse did his best chasing the winner down the lane, but the short stretch and 5-furlong distance were just to much for him to overcome.
---