Finding Hidden Form Offers Nice Rewards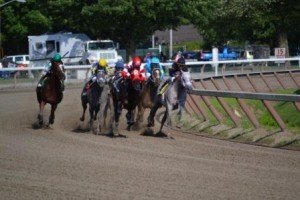 In a prior article introducing the Topic of Form, we listed a subtopic referred to as Hidden Form.  This can mean a lot of things to a lot of people.  For some it can involve a nefarious plot by trainer and owner to "darken" a horse's form, thereby fooling the betting public, and collecting big odds when the horse next runs.  We're not saying this ancient practice of darkening a horse's form is extinct, but we'll save that topic for another day.
Hidden Form we're describing in this article involves picking up on the subtle clues in a horse's past performances (PPs) that indicate a horse is improving in ability, but still might get overlooked by the betting public for one or more reasons.  For example, maybe the trainer or jockey riding the horse aren't well known.  But somewhere in the PPs you find something that reveals the horse has improving form, albeit a bit hidden.
As an example, we're going to review a horse entered in the 6th race at Saratoga on August 26, 2013 named Deadicated Deal.  It demonstrates one of my favorite examples of hidden form that usually offers very generous value.  When a horse has improving Beyer Speed Figures, but has failed to hit the board.  Below are the PPs for the horse going into the race: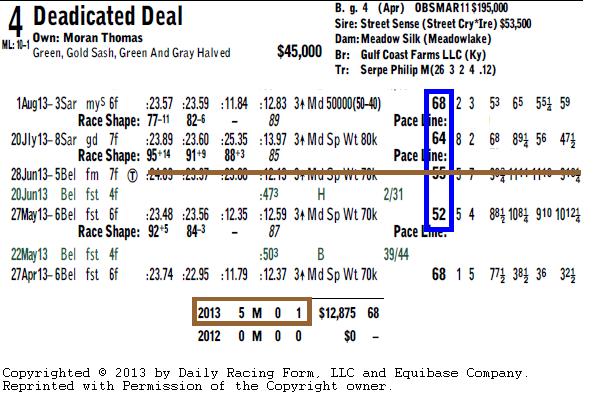 Working from the bottom up, we can see that Deadicated Deal had a good debut race finishing 3rd.  After that he regressed in his second start on May 27.   We put a line through the June 28 race, as it was on the turf and we're considering it a throwout race.  On the July 20 race he finished 4th and on August 1 was 5th.  So, if you look at the summary information at the bottom, you see that in five starts he finished in the money only once.  The "M" you see indicates the horse is still a maiden.
Generally speaking, the betting public shy away from horses like this that have not finished in the top three very often.  However, notice the ascension of Beyer Speed Figures in his last three dirt races.  From 52 to 64 to 68 in his most recent start.  So, despite his inability to finish in the money, he was actually improving on the Beyer speed scale.  Improving to where his last race suggested his form had returned to where it was when he made his debut in April, at least in terms of speed figures.  The ascension of figures in 3 straight races suggests he might be positioned for another move forward.
In order to win the race on August 26, he would have to beat a Todd Pletcher trained horse, who was the favorite at 4-5.  He was dropping from Maiden Special Weight to Maiden Claiming class level, which explained his heavy favoritism.  But, looking at his Beyer Speed Figures in his last three races [73,74,71] they were not vastly superior to what Deadicated Deal had achieved in his last race [68].  And, with the hope/expectation that Deadicated Deal  might improve again, he seems like a fair play at morning line odds of 10-1.
As is often the case, with lack of in-the-money finishes and the appearance of an apprentice rider on his back (one of those additional reasons noted above) … the betting public overlooked his hidden form on the Beyer Speed scale.  He was sent off at odds of 16-1.  The apprentice jockey Manny Franco gave him a terrific ride, cutting the corner into the stretch and hugging the rail for a 2+ length victory.  Deadicated Deal returned $35 for a $2 win ticket.
A nice reward for students of hidden form.
---
---